Easy identification of hydraulic filter elements to be replaced
Do you know this situation? Your clogging indicator on the filter housing shows that the replacement filter element has reached its limits in terms of dirt-holding capacity and the differential pressure between the contaminated and clean sides of the filter consequently exceeds the defined critical level. 
At this point, the bypass valve integrated in the filter housing often intervenes and simply diverts contaminated hydraulic oil past the saturated filter element.
Filter element contaminated! What now?
In order to avoid comprehensive and thus often cost-intensive machine downtimes and to prevent damage to system components, it is now urgent to change the filter element.
But: You do not currently have an exactly matching filter element in stock and your documentation of the filter type used is incomplete. The nameplate on the filter housing often gives information about the filter series and size, but usually does not provide any detailed information about the filter material used or even its micron rating.
So what else can you do but remove the filter element, clean it on the surface in the hope of finding a description or part number attached to the element, and then insert it again temporarily until the reorder arrives. What a mess!
Pilot project at STAUFF solves user problem
In the course of a pilot project, STAUFF is now solving this problem with a sticker that is attached to the filter element already during production, assembly and packaging.
This durable and highly resistant sticker is simply affixed to the filter housing by the user himself or his service company. When the element needs to be changed, it provides all the relevant information for replacement at a glance. This also includes a QR code that can be used to call up further information about the product online. This way, a direct reorder is also possible, if required.
×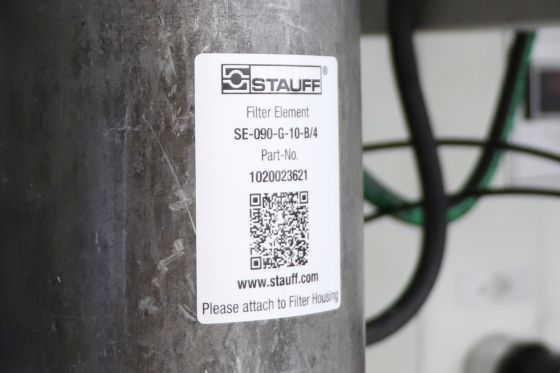 During the first test phase, in which the general acceptance of the users and information on their utilisation behaviour are determined, this measure is initially limited to 10 commonly used standard types of filter elements in the STAUFF SE and RE series.

Newsletter Subscription
Receive automatic e-mail notifications about new posts on the STAUFF Blog